During the summer of 2012, Pro-Motor got in touch with Cardiff University to commission research in to the effectiveness of car advertising compared to other, more established, forms of outdoor advertising. After a couple of weeks of correspondence we were introduced to a very willing and capable undergraduate student to carry out the research for us.
We produced a video that simulated a walking commute in an area of dense advertising within Cardiff. The commute video displayed to participants:
Road sign (billboard) advertising
Store sign advertising
Wall posters
Vehicle graphic advertising.
An example of the video and experiment used can be found here: https://www.psychsurveys.org/lukas/pro_motor
The results from the experiment were incredible. It showed that vehicle branding was the most memorable, most likeable and most efficient form of advertising compared to store signs, wall posters and road signs (billboards). These findings, added to the low CPI of vehicle graphic advertising, provide a strong case for selecting this medium of outdoor advertising over other mainstream options.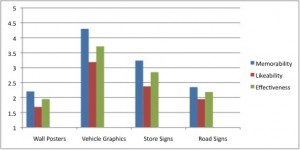 We know what you're thinking at this stage – of course your own results support your advertising medium. Well if you need more persuading and want to see the full report just get in touch.